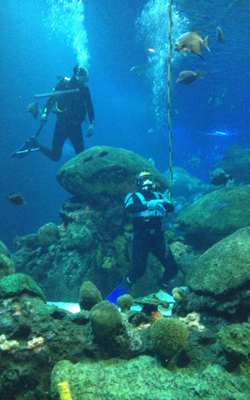 We decided to head to Chattanooga for the day and experience the Tennessee Aquarium.
We were very pleasantly surprised how family friendly the whole downtown area was with the two aquarium buildings set in the middle, picturesque Tennessee River beside, abundant parking in front and lots of family friendly restaurants (Ben and Jerry's, Mellow Mushroom and Big River Grille) and fun nearby!
The aquarium is laid out in two buildings, the River Journey (fresh water tanks) and the Ocean Journey (salt water tanks). "Inside the River Journey building,  visitors are delighted by feisty river otters, colorful frogs, amazing turtles and freshwater fish species such as beautiful trout, giant catfish and prehistoric-looking sturgeon. While exploring Ocean Journey, guests experience tropical and marine habitats." (http://www.tnaqua.org)
Our first stop was one of the highlights an open tank where you can touch the sting rays. Children and adults loved watching and trying to get a chance to touch one.
Then you enter the butterfly room and can immerse yourself in a wondrous place where butterflies swirl around you. For a few minutes you are transported somewhere else almost to a fairytale world where we gleefully wandered around looking for different kinds of butterflies.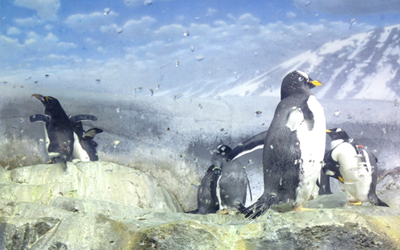 In the Ocean Building we also got to see scuba divers feeding the fish and ask them questions. Yes, there were sharks too!
Another highlight were the Gentoo and Macaroni Penguins, all individually named and marked with a color band so you can figure out who is who.
Other highlights for us included: jellyfish world, the seahorses and of course the building length tanks viewable from multiple levels to fully enjoy all the sea creatures.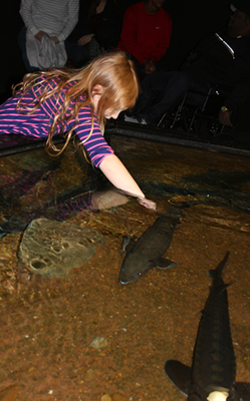 For an additional charge you could see one of their 3D IMax movies. It was almost entertaining enough to just watch the kids try on and play with the large IMax glasses. The movie theatre was again conveniently located across the street.
We chose the penguin film "Penguins 3D" because we didn't think the shark one would be appropriate for our 4 and 5 year olds. Even the penguin movie dealt with tragic realities of the penguin existence living in a harsh climate with fierce predators but it was a memorable learning experience and a fun first IMAX film!
It was a wonderful family day. We left with my husband saying we should come back sometime and stay the weekend. Chattanooga has lots of other wonderful activities for families and children including the Creative Discovery Museum, parks along the waterfront, baseball games (Chattanooga Lookouts). Not to mention there are numerous tourist attractions including Rock City, Ruby Falls and the Incline Railway which would be fun when the weather is nice!
Other Resources
Plan your visit: http://www.tnaqua.org
Chattanooga Attractions: http://www.chattanoogafun.com