Here are a few of our favorites animal books that we have enjoyed for many years (ages 4-8).
The first favorite book was Kitty Up, by Elizabeth Wojtusik. It's a story of a cat that jumps out of a window chasing a ball, gets lost and finds his way home through his friend, the family dog. It's beautifully illustrated. We received the book for free through Dolly Parton's imagination library program. Through the program, participants receive a free age appropriate book each month until the age of 5. It the program is in your area, it is free to participate and a wonderful way to foster the love of learning especially to low-income families.
Another animal favorite of mine featured in the Dolly Parton program is The Roar of the Snore by Marsha Diane Arnold. It has a wonderful rythmic rhyme and a most charming ending. All the Huffles are waking all the members of their family to stop the "roar of the snore" which is keeping Jack from falling asleep. In the end the guilty party is none other than a small lost kitten sleeping in the barn and the family decides to adopt him.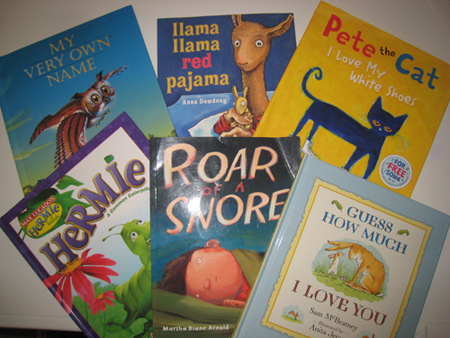 Guess How Much I Love You by Sam McBratney is a sweet tale of unmeasurable love and learning how to express it. A baby rabbit, "Little Nutbrown Hare" wants to express his grande love for "Big Nutbrown Hare". As the young rabbit tries to describe his love for Big Nutbrown Hare, he is seemingly limited by his physical restrictions-how far he can stretch his arms and how tall he can reach. Since Big Nutbrown Hare is physical bigger his responses of love always seem greater. Little Nutbrown Hare continues to stretch his imagination and grasp larger ways to express his love.
The character Pete the Cat, by James Dean and Eric Litwin, became a favorite this year when their girls 92 year old grandmother sent Pete the Cat, I love My White Shoes and accompanying stuffed animal for as a birthday present. It's cute and catchy and a great way to learn colors and basic words. The moral of Pete's story when confronted with challenges is don't worry, keep a positive attitude and move forward. It's illustrated repeatedly in the storyline "Did Peter cry? Goodness, no! He kept walking along and singing his song."
Everytime my children request Hermie, A Common Caterpillar I question if it's because they want to see me cry. It's a beautiful story written by Max Lucado about a caterpillar who appears very ordinary except that he talks to God. God always responds to Hermie's question "God, why did You make me so common?" with "Don't worry Hermie," "I love you," "And I am not finished with you yet." It's a beautiful story about waiting patiently to become who you are intended to be.
Great Gift Book:
One of my favorite books to give new parents is My Very Own Name personalized animal book written by Maia Haag. It introduces the child's name with animals holding letters like a "Deer" holding a "D." The kids love the animals but I love the lasting memory of a child's name bound in a book with animals. You can also personalize it with a message at the beginning.
One of my favorites because it reminds me of daily interactions with my own children is Anna Dewdney's Llama Llama Red Pajama. It illustrates the need for patience and how easily children's basic needs can escalate to mass frustration. I love it because it teaches the lesson of patience which I know I can always use more of and is not easy to teach young children. It makes me laugh as Baby Llama's needs for mama escalate from needing a drink to major drama crying and screaming for his mama. I laugh at mama's reaction "Baby Llama what a tizzy! Sometimes Mama's very busy. Please stop all this llama drama and be patient for your mama. If that only worked!
What animal books do your children like? Send us a message at contact@straymagnet.com or comment on facebook.