Written March 11, 2014
Addison, my beloved cat of 15 years started bleeding over the weekend. For a cat who has been diagnosed in renal failure for 2 years and had an ultrasound 3 weeks ago showing large cysts in her kidneys and spleen I knew that couldn't be good.
We spent the weekend trying to prepare for the possible end and trying to say goodbye.
I am so thankful for growing up in a family that had animals and treated them like members of the family. For different reasons, when our animals passed I didn't get the chance to say goodbye and it clearly was upsetting.
I felt it was important for my kids to be able to have a chance to say goodbye to Addison. Much of Saturday I spent crying, grieving the possible loss of my 15 year old faithful companion still uncertain of the prognosis. My children's responses to my sadness and my words were encouraging.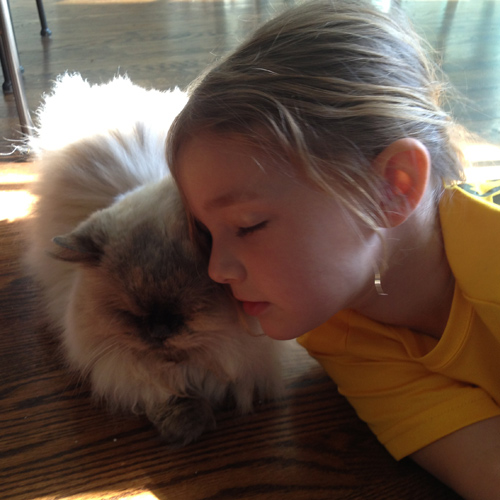 They matter of factly, asked if she was going to die and very simply said "I don't want her to die". I explained that I didn't know when she would go to heaven, that only God knew. I explained that I didn't get to say goodbye to my pets growing up and I wanted them to make sure they got to say goodbye and whatever they wanted to let Addison know. We talked about heaven and how beautiful a place it would be. How there was no pain in heaven and we would see Addison again there one day.
My five year old kept saying why are you crying mom? and I explained that even though she was going to the most amazing place that I would still miss her. My four year old reminded me that "she would always be in our hearts". They seemed more resilient and less affected than I was which was encouraging. 
At the same time, they took it to heart. My five year old asked if I could take a picture of her and Addison, print it out immediately and put it in a frame. We went upstairs and had a photo shoot, printed out the pictures and found frames. Each daughter put their picture beside their bed. My oldest said see mom every morning when I wake up I'll see her. As sweet as it was I had to chime in, "she's still with us".
Before heading off to school the next day my oldest asked me if Addison was going to die and I explained I didn't know. She asked if I would let her teacher know to tell her. I said it would be better coming from me. She ran up to my room to say goodbye to Addison before leaving for school and the teacher noticed she seemed a little down walking into class. My husband explained why. She was taking it to heart but seemed so mature about dealing with it.
My youngest and I took her to the vet and thankfully it was not the end. She either has a large mass in her bladder or it's severely swollen. We are hoping it's very swollen, are treating her with antibiotics and will take her back in a week for another ultrasound to check for improvement.
I do have this fear that she will pass away while we are out of town, like my last cat did, and I don't want that to happen. I don't want to leave although I also know God didn't want me to be present when Sadie passed away. Why is that? Will I not be able to handle it?
I pray for her-for healing, for no pain and for peace. I pray for wisdom to know how to best care for her especially if that means making tough decisions and how best to tell our kids.
For now, I am thankful that the children will handle it well, probably much better than I will. I am also thankful that Addison has been a fighter, having lived a long life with lots of health issues. She has blessed me and our family beyond words.
UPDATE:
Addison passed away last Saturday, April 12. It was time but it never feels like it's time. (To read more about having to say the final goodbyes and the euthanization process read Tough Decision).
Other Articles on Addison
Addison's initial diagnosis
Overcoming Fear of Needles, treating a cat with Su-Q fluids at home
Diagnosed with Cat Allergies
Tough Decisions: When to put your cat to sleep?