This article celebrates Bear, a Border Collie mix who was hit by a car on Sept. 25. In many ways his story is just now beginning but it's important to celebrate the people and organizations that made a difference to save his leg and ultimately his life.
Those who are responsible for "making a difference" to get him help and on the road to recovery are Lovie's Legacy,  Nashville Veterinary Specialists, Animal House Vet Clinic, St. Luke's Community House, Stray Magnet, his owner Sharon and many individuals who donated their money to pay for Bear's surgery. Thank you to each and every person and organization for lending your time, talents and treasures to help a dog and his owner in need.
The need always seems to outweigh the available resources but God provided in this instance bringing an amazing group of people together to help Bear.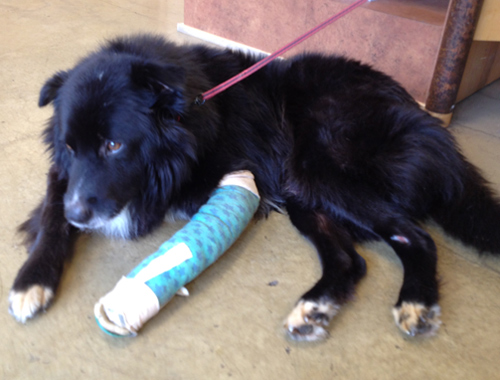 The Story:
Wednesday Sept. 25 Bear was hit by a car
Bear, a border collie mix, was hit by a car Sept. 25 breaking his radius and ulna (2 leg bones). I received a call from a representative of St. Luke's Community House not knowing how to help the dog and her resident who didn't have any expendable income. Stray Magnet strives to be a helpful animal resource and we were happy to help although it was unchartered territory for us as well.
Friday Sept. 27 Bear gets medical attention 2 days later
After much research and many phone calls to find the most affordable services and get financial assistance Bear was able to get into a vet two days later. Bear was seen and treated by Dr. Kendra at Animal House Vet Clinic on Friday, Sept. 27 and Lovie's Legacy gave a grant of $150 to cover the initial visit. Bear's x-rays showed a broken radius and ulna leaving him with two surgical options (put a plate in $1593, or amputation $1140). The dog's owner Sharon wanted to help Bear keep the leg but she had no money and time was paramount because the longer the leg would go untreated the more likely amputation would have to be done.
For several days, Bear's owner filled out every possible grant application she could find with the help of St. Luke's staff. She even applied for care credit with the concern and reality that she wouldn't be able to pay the monthly cost. No grants were given to help Bear so the only option was fundraising.
Thursday Oct. 3 Money Raised for surgery but concerns about getting it soon enough to save leg
Nashvillians and beyond were touched by Bear's story and wanted to help. People donated money through Lovie's Legacy (non-profit) to help cover the cost of the surgery. By Thursday late evening, seven days after the accident, enough money was raised to cover the surgery but the earliest it could be done was the following Wednesday (2 weeks after the accident) and we weren't sure if that would be enough time to save his leg. In the interest of time, we were able to get a referral to Nashville Veterinary Specialists, where there are orthopedic surgeon's on staff who could perform the surgery sooner.
Friday Oct. 4 Referral to Nashville Veterinary Specialists, Surgery scheduled
Bear was seen by Dr. Calfee (Nashville Veterinary Specialists) who was amazing! He said the injury was very fixable and was confident about a successful surgery. They checked Bear's leg, re-dressed his bandage and scheduled Bear's surgery for Monday.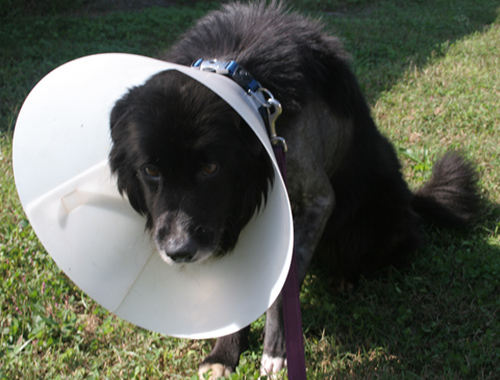 Tuesday Oct. 8 Surgery Went Well
Surgery went great and Bear is on the first steps to healing. He has a long road (10 weeks) to full recovery and his owner is committed to following the strict regime but it will be a hard journey. Hearing Bear whimper at Sharon's feet as soon as they were reunited in the vet's office touched my heart knowing how much he loved her and had missed her.
I know one of the reasons I was supposed to help with Sharon and Bear was that we just went through a similar recovery with our dog and know how difficult the recovery can be. Our dog tore his ACL four months ago and had surgery with NVS. (Read the Blog documenting the ACL injury and recovery).
Friday Oct. 11 Rough Road Ahead
It's only been four days since surgery and Bear seems pretty down. Sharon describes it as a "war of the roses". He doesn't like his plastic collar and doesn't want to go the bathroom outside. He is used to being free to roam as he pleases and eat and go the bathroom privately. Walking Bear on a leash is necessary but is proving to be an adjustment for both Sharon and Bear.
Be thinking about them as they journey toward healing. Everyday should get better but each step is hard. Sharon has the tough job now. Lots of people came together to donate their time, talents and treasures (money) to get Bear the medical attention he needed to physically heal but now Sharon has 10 weeks of critical care to ensure his leg heals properly and a hopefully a long future ahead with Bear.
Bear was first found by the Tennessee River from some Louisanna folks displaced by Hurricane Katrina (2005). When they returned home to New Orleans two years later they asked Sharon and her late husband Buddy if they would care for Bear. Bear has become Sharon's constant companion since losing Buddy to cancer in 2011.
Update
Dec. 13 Follow Up Appointment and X-Rays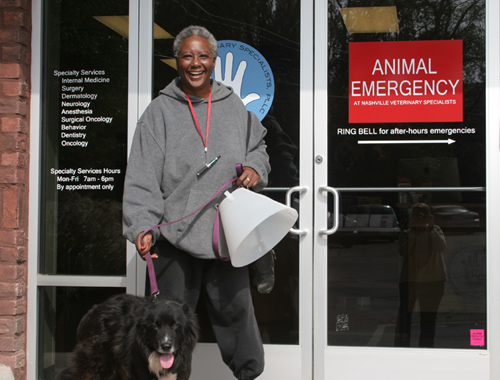 THE BIG DAY Sharon has been waiting for after weeks of restricted mobility and recovery. Bear's x-rays looked great and Dr. Calfee said the bone has healed. PRAISE GOD!
Bear occasionally lifts his leg up when it's cold outside so Dr. Calfee said to watch it for a few months and if he is still lifting it then they should take out the plate. Sharon is so thankful to have a healthy Bear by her side and all that hard work and TLC made a difference.
Future Hopes
Bear and Sharon could really benefit from a fenced in yard once he is healed. They live on a busy street and a fence would ensure his safety and happiness. Hopefully in the next nine weeks we can make that dream a reality.
Update:
Habitat for Paws is considering helping build them a fence. What a blessing it would be!
SPECIAL THANKS to all those Individuals who Helped: You all are changing lives.
-Dr. Trey Calfee
-Justin and the entire Nashville Veterinary Specialists Staff
-Dr. Catrina Herd
-Gayle and the entire Animal House Vet Clinic Staff
-CC Couch and the crew at Lovie's Legacy
-St. Luke's staff (Ali, Christie, Brian, Mobile Meal Drivers)
-Individual Financial Donors
I created the website Stray Magnet saying "if I can help just one person or animal it will be worth it."  Thank you Sharon for allowing us to help you and Bear.