Featured Pet of the Week: Mary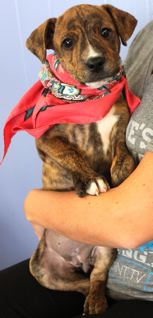 Each week we will feature animals available for adoption at local shelters. This week's pick is Mary from Love at First Sight! Puppy and Kitten Adoption Center.
Description:
Age: 3 Month Old Puppy
Gender: Female
Breed: Mother lab mix (unknown father)
"Hi! My name is Mary.  I was born on 8/16/12.  My mother was a lab mix and I'm not sure what my father was, but he must have been special!  I will probably weigh between 40 and 60 pounds.  I am working really hard on my crate training.  I would do better in a home with no dogs but I LOVE cats.  I am just really scared of other dogs.  The people at LAFS are working on helping me to not be so scared of dogs.  I LOVE all people and am extremely sweet.  I don't seem to be too energetic.  Please come meet me today."
For more information or their full listing, visit Love at First Sight's website at http://www.lafspetadoption.com/our_puppies_4.html.
Love at First Sight! Puppy and Kitten Adoption Center
4423 Murphy Road
Nashville, TN 37209
Phone: (615) 297-2464
Fax (615) 383-9096
email: lafspetadoption@aol.com
Hours:
Monday-Friday 10AM-4:30PM
Saturday 8:30AM-11:30AM