Featured Pet of the Week: Skeeter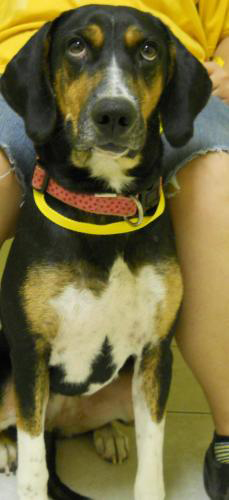 Each week we will feature animals available for adoption at local shelters. This week's pick is Skeeter from the Humane Society of Sumner County.
Brief Description:
-Coonhound/Beagle Mix
-2 years old
-Female
-Spayed
-Up-To Date on shots
-House trained
"Skeeter is a sweet girl who is about 2 years old and loves attention.  She loves to be played with and rubbed on all day.  Like most dogs here, she came here with no faults of her own and is looking for her forever home. For information regarding adoption requirements please visit SumnerHumane.org."
For more information or their full listing visit the Humane Society of Sumner County's information on Petfinder.
Humane Society of Sumner County
16 Volunteer Drive
Hendersonville, TN 37075
Phone: (615) 822-0061
email: info@sumnerhumane.org
Hours:
Wednesday-Friday: 12PM- 5PM
Saturdays: 10AM-4PM
About The Humane Society of Sumner County (HSSC):
"The Humane Society of Sumner County (HSSC) is a small, private, non-profit (501c3) service organization that promotes the humane treatment of abandoned, lost, and displaced animals. HSSC provides temporary shelter, necessary medical attention and mandatory vaccinations, and sterilization to aid in population control. Our adoption staff joins loving, qualified and responsible people with these animals and works diligently to re-unite incoming lost animals with their people. HSSC encourages the public to help control the over-pet population through spay and neuter awareness and offers assistance to people who qualify. HSSC has diligently served this community since 1974 and is solely supported by donations."