Each week we will feature animals available for adoption at local shelters.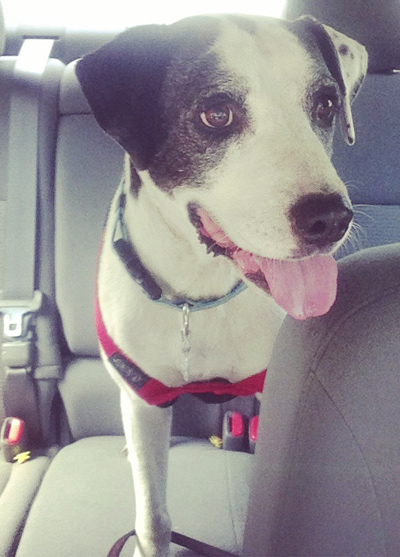 This week's pick is Bruce from Music City Animal Rescue.
Brief Description:
-Pittie Mix
-Male
-1.5 years old
-Neutered
-Up-to date on shots
"This sweet boy is Bruce.  He was found wondering in East Nashville with a large leather belt around his neck and dragging a huge chain.  The hair around his neck was gone and he was infested with fleas and dirty.  He would not eat and was very afraid of lots of things and noises.
This is Bruce today!  A healthy and happy young man – probably around a year and a half.  He is fully grown now and probably weighs around 40 – 45 lbs.  He is just the sweetest thing.  He loves to sleep on the couch – his appetite is what it should be now and many of his fears no longer exist.
He is fully vetted and neutered – heartworm negative and just so anxious to find a forever home.   He is good with other dogs and children.  He has not been introduced to cats – but his temperament should allow him to adjust to them as well.   Bruce is one of the "WONDER" dogs we call them.  It is a WONDER they survived the conditions they came from - it is a WONDER that they have turned out to be such a great pet and he will be a WONDER-FUL addition to your family."
If you would like to meet Bruce, please email MusicCityAnimalRescue@gmail.com or call at (615) 485-4452.
About Music City Animal Rescue:
Music City Animal Rescue is a non-profit, 501(c)3, no-kill animal rescue. Established in July of 2013, the rescue may be new but it's founder, Vickie Harris, and those that volunteer and work with the rescue are certainly not new to the tremendous need of animals in and around Middle Tennessee as well as across the United States.
Music City Animal Rescue is different than many rescues because we take in not only cats and dogs, but rabbits, horses, goats, birds, reptiles etc….If we have experience or know someone who does, we do all that we can to rescue an animal in need.
"We are a foster home network", says Vickie, "and we are limited to the number of animals we can help by the number of foster homes we have.  Right now, we are in severe need of anyone who is willing to foster a dog, cat, kitten, puppy, etc…"
*If you or someone you know, would be interested in getting more information on how to become a foster or volunteer, please contact Vickie Harris at (615) 485-4452 or email Vickie@Paws4Health.com