In the midst of Hurricane Sandy's recovery…let's recall Joplin Missouri's devastating tornado and the affects on the animals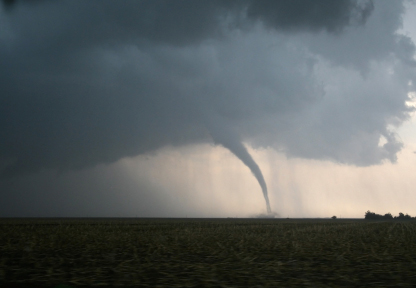 As our country has been hit but yet another natural disaster with Hurricane Sandy and thousands of Northeasterners are still without power and a looking at a long recovery ahead I am reminded of another devastating storm, the fall out for animals, and the outpouring of community support helping to make a happy ending.
According to the National Oceanic and Atmospheric Administration, "The Joplin tornado is the deadliest single tornado since modern record keeping began in 1950 and is ranked as the 7th deadliest in U.S. history. On Sunday, May 22, 2011, an EF-5 tornado hit the city of Joplin, Mo., leaving an estimated 157 people dead. B Alan Scher Zager and Jim Salter reported in the Huffington Post, the tornado destroyed "7,000 homes," "leaving nearly one-third of the city's 50,000 residents homeless," and many without the ability to care for pets.
In response "The ASPCA showed up in force in Joplin following the disaster to aid in rescue, feeding and medical care of animals victimized by the tornado, reported Arthur Geon from Global Animal."  The American Society for the Prevention of Cruelty to Animals (ASPCA) also "provided the Joplin Humane Society with a $100,000 grant to support disaster relief and recovery efforts." The ASPCA and the Joplin Humane Society set up temporary housing by converting "two vacant warehouses next to the shelter into air-conditioned kennels. A gravel parking lot outside a former used appliance store has been converted into an owner's waiting room, with plastic chairs and Polaroid snapshots of unnamed animals stuffed into thick three-ring binders." (Zager, Salter from Huffington Post)
Given the magnitude of the devastation the ASPCA and Joplin Humane Society provided care for over a month (doubling the mandatory "14 day holding period for animals affected by disaster") "trying to reunite as many pets as possible" before moving forward to find the pets new permanent homes. The ASPCA and the Joplin Humane Society hosted an adopt-a-thon event June 25-26 to help find the animals new homes. (ASPCA June 17, 2011 Press Release ) I had just joined twitter and I was amazed and thrilled at the adoption updates. The numbers were overwhelming and showed and outpouring of love and support for the animals and the Joplin Community. The ASPCA reported June 27 "more than 5,700 people from 24 states rolled into Joplin, Mo. and by the end of the weekend they had "successfully found permanent homes for 745 pets."
Out of that devastating natural disaster people responded and the numbers were overwhelmingly positive. Here are some key figures to remember:
1-"The ASPCA provided emergency sheltering for approximately 1,300 animals during the month-long sheltering period." (ASPCA)
2-"Nearly 500 animals were reunited with their owners" (ASPCA
3-"745 pets found permanent homes" during the adopt-a-thon (ASPCA)
4-Over 100 volunteers helped taking care of the animals from veterinary care to kennel cleaning (Huffington Post)
5-$100,000 grant was given to the Joplin Humane Society "to support disaster relief and recovery efforts" from the ASPCA
6-5,700 people from 24 states went to Joplin Missouri to the adopt-a-thon (ASPCA)
I hope these numbers are encouraging for those still dealing with the devastation of Hurricane Sandy. I hope and pray those lost or abandoned are rescued and reunited with their owners, providing another happy ending amongst devastation. The ASPCA and other organizations are still in the midst of rescuing animals from Hurricane Sandy. For news on their rescues, visit their blog at http://blog.aspca.org/. There is also a helpful article "After Superstorm Sandy, Pets Are Rescued By Animal Support Groups" by Vetstreet's Amy Sinatra Ayres, Laura Cross and Shayna Meliker on the Huffington Post (Nov. 2) which outlines resources available like a facebook page for reunification, who to call for lost and found pets and how you can help.