Written By: Bonnie Burch
Photography By: Shelley Mays
Published Dec. 6 By: The Tennessean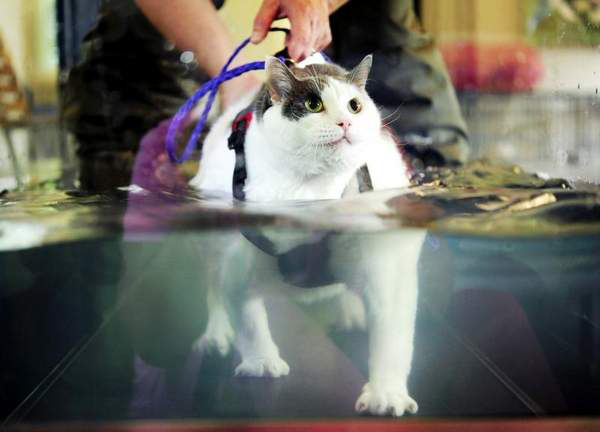 Buddha died December 5, 2013
"Buddha, Nashville's famous fat cat that became a media sensation when his story went viral across the globe from Australia to Vietnam to England, died Thursday night.
"Buddha was diagnosed as having a congenital heart defect. The way it was explained to us is that his heart walls were thickened. The weight certainly put added stress on his heart," said Penny Adams, a volunteer with the Cat Shoppe/Dog Store in Nashville's Berry Hill community, a retail store that manages the nonprofit Cat Shoppe Rescue Inc.
The gray and white domestic shorthair was about 6 years old.
After working out on an underwater treadmill and watching his treat intake, Buddha's quest to lose weight inspired humans to drop a few pounds.
Adams, who also is the volunteer photographer at Metro Animal Care & Control, noticed the obese feline — then tipping the scales at 31 pounds — in a cage there on Aug. 2. His previous owner had surrendered him to the shelter after a death in the family.
Volunteers brought him to the Cat Shoppe to more closely monitor him and get the cat on a healthy weight loss regimen that included walks on an underwater treadmill three times a week at Stonewater Rehabilitation at Animalia in Franklin.
Eventually he weighed in at 24 pounds, close to his 20 pound goal. But he hadn't been on his exercise regimen recently as his caretakers noticed that the kitty was suffering from his heart ailment. Instead, they tried to stabilize him so that he could be placed in a permanent home, but eventually he was overcome with heart disease.
"My hope is that he didn't die in vain and that people will take feline obesity seriously"
"He loved spending his days watching birds and he enjoyed his toys. He was a very special cat and such an inspiration from so many across world who struggle to lose weight. My hope is that he didn't die in vain and that people will take feline obesity seriously," Adams said.
A celebration of life for Buddha is planned from 7 to 8 p.m. Dec. 14 at Monell's Restaurant, 2826 Bransford Ave., next to The Cat Shoppe, in Nashville."
For the original story or to see the video of Buddha using the tread mill, visit http://www.tennessean.com.
Other Related articles on Buddha:
"Buddha, Nashville's 31.4-pound cat, to start diet and exercise" The Tennessean, http://www.tennessean.com