PEANUT PAWS -Santa "Paws" will love them!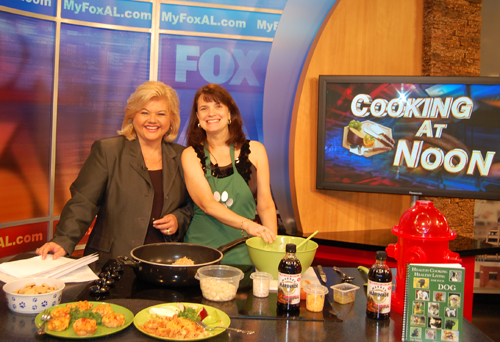 Submitted by Vickie Harris Paws4Health.com
This recipe is one of our signature recipes. It is considered a "treat" instead of a "snack" because it does contain a little more sugar than a snack recipe -BUT, I have yet to find a dog that doesn't like the peanut butter flavor.
The dough is just the right consistency to cut into paw or bone shapes but you can just as easily make it like a peanut butter cookie.

THE BONUS TO THIS RECIPE…we pet-owners can eat them too! This recipe does not contain anything a peanut butter cookie lover wouldn't want AND they are only 45 calories a 2" cookie. FYI: a medium-sized milkbone contains 89 calories (almost 2x's the carbohydrates).
INGREDIENTS:
1 2/3 cups wheat flour (you may use all-purpose if you like)
1/2 tsp. baking soda
1/4 cup unsalted butter
1/4 cup creamy or crunchy peanut butter
1/2 cup unrefined sugar (or regular granulated sugar)
1/3 cup sarghum sugar (or brown sugar -PACKED)
1 large egg
1/2 tsp vanilla
DIRECTIONS:
-Preheat 350
-Cream butter, peanut butter, sugar and brown sugar until light and fluffy. Beat in eff then gradually beat in flour mixture until is is combined.
-Form dough into small 1 inch balls and place approx. 2 inches apart on cooking sheet. Mash back of spoon into the middle to flatten it. OR
-Take small portions of dough and flatten it out by hand to the desired thickness an use a small cookie cutter (any shape you like).
-Bake until golden brown about 10-12 minutes.
-These cookies last up to two weeks in a sealed container of you can freeze them and they will last up to 2 months.
More about Vickie and Paws4Health:
Paws 4 Health isn't just a recipe site. It is a place for all pet owners who want to provide the the most healthful choices for their pets. We encourage pet owners to provide healthier meals and healthier alternatives for their pets. We also educate pet owners on the benefits of having their pets spayed/neutered.
Paws 4 Health was founded and organized by Vickie Harris.  Vickie is also the owner of a Nashville based audio/video production company.  She supports and volunteers with many local rescue organizations and pet-related businesses.  She serves on the board of a local rescue organization – Freedom Farm Animal Sanctuary in Hendersonville, TN.
Since 2010, Paws 4 Health has become a reliable resource for veterinarian approved recipes as well as helpful tips and related articles. Through the support and efforts of many animal lovers and pet owners, Vickie Harris and Paws4Health.com is touching the lives of animals across the country. We hope you'll join us in our efforts to educate and provide pet owners with useful information to help give their pets long, healthy & happy lives.