Each week we will feature animals available for adoption at local shelters.
This week's pick is Pen, an American Bulldog mix from Love at First Sight! Puppy and Kitten Adoption Center.
This little cutie is a female American Bulldog mix.  She is such a love!  She was born on 12/30/14.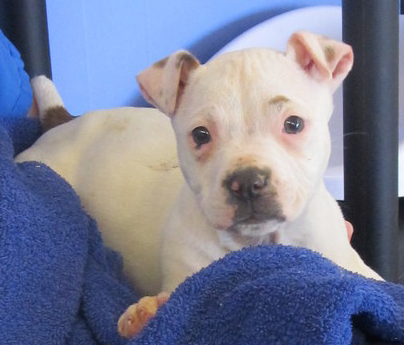 Brief Decsription:
-female
-American Bulldog Mix
-2 months old
-up to date on shots
To view more puppy photos, click here.
To view more kitten photos, click here.
For more information or their full listing visit Love at First Sight's website a http://www.lafspetadoption.com.
Love at First Sight! Puppy and Kitten Adoption Center
4423 Murphy Road
Nashville, TN 37209
Phone: (615) 297-2464
Fax (615) 383-9096
email:lafspetadoption@aol.com
Hours:
Monday-Friday 10AM-4:30PM
Saturday 8:30AM-11:30AM