Each week we will feature animals available for adoption at local shelters.
This week's pick is Ashton from Love at First Sight! Puppy and Kitten Adoption Center.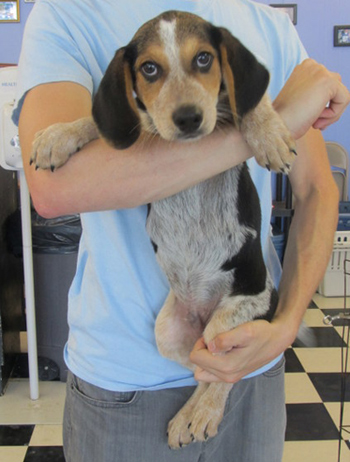 Description:
Age: 4.5 Month Old Puppy Born 5/30/13
Gender: Female
Breed: Beagle Mix
"Hi!  My name is Ashton. I am some sort of Beagle mix but you can tell that I'm mostly Beagle if not all Beagle.  I should grow up to be a medium size dog.  I can't believe I'm still here!!  I am one of the cutest puppies that has ever walked through the LAFS door.  I am really smart and eager to please.  I would enjoy an active home with a big yard to run in.  I also love to cuddle and snuggle.  Hurry in to meet me today."
For more information or their full listing visit Love at First Sight's website at http://www.lafspetadoption.com
Check out other adoptable puppies!
Love at First Sight! Puppy and Kitten Adoption Center
4423 Murphy Road
Nashville, TN 37209
Phone: (615) 297-2464
Fax (615) 383-9096
email:lafspetadoption@aol.com
Hours:
Monday-Friday 10aM-4:30PM
Saturday 8:30AM-4:30PM