(Originally Written September 16, 2011, with an update November 16, 2012)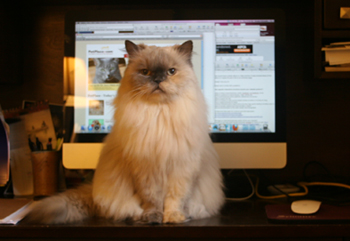 8:00 am I got the call from our vet with the results from Addison's bloodwork and urinalysis. Basically he said she was in the early stages of chronic renal insufficiency (kidney failure). Just thinking about it makes me cry.
About a month ago I took Addison in because she was limping. I noticed it when we returned from our family vacation. I was particularly sensitive to the issue and the timing because last year around the same time we lost our other cat Sadie. She died of cancer but her first symptom of the sarcoma in her hip was a limp. Having lost a cat recently and with it all starting out as a limp I was particularly uneasy.
At that appointment, she had her annual physical and the limp had improved so there were no signs of needing additional treatment. Our vet, said to watch the limp and if it hadn't improved to bring her back for x-rays. The limp did improve but to me I could tell she still favored it slightly. She also started peeping and pooping outside the liter box which made me think she had a UTI (urinary tract infection), or had crystals in her urine which were painful. She is 13 years old and 12 of those 13 years we have dealt with on and off urinary problems because she develops crystals in her urine. I was prepared for crystals in the pee but I wasn't prepared for kidney failure especially so soon after Sadie's passing.
The good news is that we caught it early and I hope and pray that she will continue to have a happy and high quality of life for another few years? But who knows?  Not knowing if it will be three months or three years makes it uniquely difficult. In some ways it's good to know she is sick and eventually will die because her kidneys will fail but it's also hard because every time I have looked at her today I have cried. I am already grieving the loss of a pet that could have several good years left and I should focus on the good. I should be joyful and thankful but I am sad.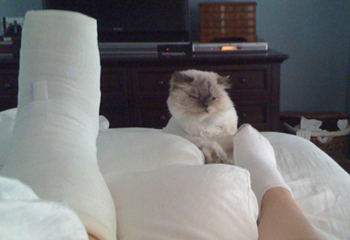 Right now she is laying on the desk on top of my papers, my constant companion. I have had her for 13 years. I grew up with animals but she was my first pet as an adult. I got her after graduate school right before I started my first professional job, as a resident advisor, at a small college in Virginia. I remember I didn't have any furniture because the truck had been delayed but I had Addison. I love that name. Pretty preppy I know and if I hadn't named her that we would maybe have considered it for a child. She has been through it all with me-moving, job changes, getting married, having kids, and was my true sidekick when I was laid up for weeks with a broken ankle.
She is my cat. She may not be the friendliest to others but she is faithful and loving to me and will always be. Grieving now should help in the end but it doesn't. I knew Sadie was dying those last few months and it was hard. I don't want it to be the same way with Addison. I want to enjoy every moment, and take advantage of what we have left but not feel guilty for what hasn't been- that is my prayer. My hope is to not grieve her dying instead focus on loving her each and every day.
Updated: November 16, 2012
A little over a year later, we visited our vet and had another panel of bloodwork done. Her levels have only slightly changed. Praise God for all He has done to help prolong her life. I am very thankful! Looking back over the year, I haven't focused much on her diagnosis but have tried to cherish the time together. I know her time will come someday and I don't look forward to it at all but for now I am living in the moment and enjoying it!
If you have lost a pet, please consider honoring them by submitting a free pet memorial at http://straymagnet.com/pet-memorials/add-memorials.