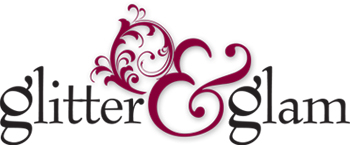 Agape Animal Rescue presents their fifth annual Glitter and Glam event July 28, from 5-8p.m, at the Hutton Hotel.
Enjoy an evening filled with fashion, food, auctions and wine tasting.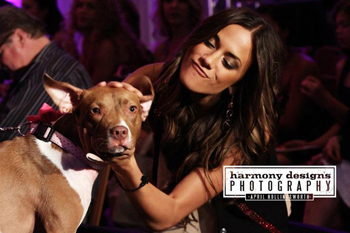 Hosts
This year's event will be hosted by "singer-songwriter, model and television personality" Kimberley Locke, and CMA's recently chosen "Debut Spotlight Artist" Phoenix Stone. "Locke has achieved five Top 5 singles on the Billboard dance chart and ten Top 20 singles on the adult contemporary chart, the most of any Idol alumni." Stone's "debut country single "100 Proof Moonshine" has already "hit #1 on the New & Active Charts and Billboard Top 50," and he is currently a "judge on the brand new reality television music competition "Next Great Family Band."  (Glitter and Glam)
Fashion Designers
This year's fashion show will feature Nashville Designers Corello for the humans and Baxter Bailey & Company for the furry friends. "Corello will be showcasing their 2013 "Black Jezebel Road" collection at Glitter & Glam. Core says the collection is inspired by Caballo's country chart topping single of the same name and is about "delving into unfamiliar territories and realizing how familiar it really is." (Glitter and Glam)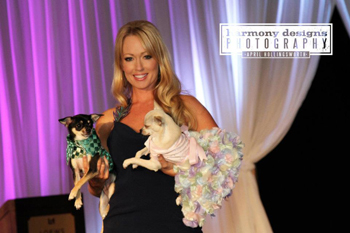 Baxter Bailey & Company's latest collection, "Music City Mutt," will serve as inspiration for the custom pieces going down the Glitter & Glam runway. "As a play off our company tagline, 'Luxury Living For The Discriminating Mutt', this product line will embody the look and spirit of Music City!" said Brown. These custom pieces will compliment the looks of human designer, Corello." (Glitter and Glam)
Auctions
In addition to the fashion show, there will be a silent and live auction featuring over $15,000 worth of merchandise. A few notable items include "a one-of-a-kind autographed, oversized Thomas Kincaid painting and a Predators 2012-2013 team autographed jersey".
Cause
All proceeds will go directly to Agape Animal Rescue, a 501(c)(3) non-profit organization, benefitting the dogs of Middle Tennessee. Agape Animal Rescue is dedicated to finding forever homes for abandoned and displaced dogs while educating the public to be more responsible pet owners.
Agape Founder, Tanya Willis said "Last year we raised over $37,000 and we hope to break $40,000 this year!"

Tickets are now available online for $70. Visit http://glitterandglam.org for tickets or more information.
Photos by April Hollingsworth, Harmony Designs Photography, Courtesy of Agape Animal Rescue