Photo By: Matt Nelson (unsplash)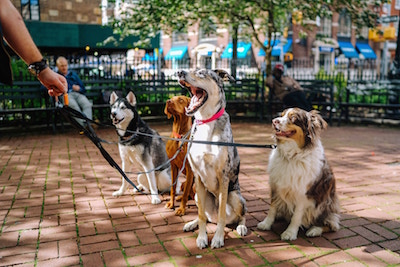 Still searching for the perfect holiday gift for your fur baby? Are they the hard to shop for type? Nothing ever fits just right? The dog bone wasn't bacon flavored, blech. Or, how 'bout last year's toy they destroyed in a single play date. Not to worry. We've got just the right gift for just about every dog, no matter how picky they are.
Tuff Mutt Hands Free Bungee Leash Picking the right leash for your canine companion is very important. If you have a dog that loves outdoors walks, but can't resist chasing everything that's moving, you'll want to consider this special bungee leash. It's designed to absorb the shock for both master and pet, when they simply can't control their urge to pull.
Dog Walking Services Every dog benefits from healthy outdoor time and socialization, so consider asking for help by paying for dog walking services if you can't give your pet the attention they deserve.
BazooK-9 Tennis Ball Launcher Dogs love to play fetch, but you may be tired of messing with the slobbery ball and the sore arm the next day. This handy launcher hurls the tennis balls at 1 of 9 different distance levels, making it perfect for all dogs, even elderly dogs who don't move quite as fast and far. You can even return the ball to the shooting chamber without having to handle it.
2018 Dog Shaming Calendar Need a little humor in your life? Look no further than this fun-loving calendar that is chock full of the cutest and funniest pup photos, depicting the crazy antics that illustrate the less than ideal side of dog ownership. Like the priceless expression of a dog holding the sign, "I ate £50 today that my mum left out to pay the gardener."
A Weatherbeeta Winter Coat Whether your dog is a fashionista who loves to wear stylish trends or a pooch who needs a little extra winter warmth due to thinner fur or skin, a new coat is an excellent gift.
Nite Ize GlowStreak LED Ball Dog Toy If you enjoy a stroll after dark, this LED ball will make it easier to take along your four-legged friend for a little night time exercise together. This great light up toy can even score you a few extra friends at the dog park.
An Elevated Dog Bowl If you have a large dog that's having to strain to bend down to their bowl, this isn't good for their neck, back, or their posture. And it certainly doesn't aid in their digestion. An elevated dish has lots of great benefits for dogs and dog lovers.
A Day At The (Dog Grooming) Salon Every dog lover enjoys the fresh, clean smell and handsome or pretty new look that comes after a day at the dog grooming salon. Gift a gift certificate for a day of luxurious pampering.
A Custom Pet Portrait Few gifts are as special as a customized portrait of a dog lover's special companion. Whether you're looking for an extra special gift with a little higher price tag, or a budget pet portrait, there's an option just right for you.
Harry Barker Sweet Check Gift Set For just $35 you can treat your fur baby to a gift from Oprah's 2017 Favorite Things. The planet friendly gift comes complete with a recycled steel Gingham Treat Tin full of country bacon treats, and a recycled yarn Skipper Rope Toy.
Your fur baby provides unconditional love all year round. Now it's your turn to show them that love in return. Add 1, or a few, of these gifts to your holiday wish list, and they're sure to be enjoying present opening time as much as you do. Plus, keeping them occupied with a fantastic new toy, instead of dangerous ribbons and bows is an extra perk.